Rock Slinger Hire
MulchXpress is now the proud owner of a portable rock and soil slinger in Melbourne. One of these units can "sling" or "throw" sand, rock, soil and mulch to a distance of 40 metres away with great accuracy. It has a long conveyor belt that can pitch up and down, left and right, with a pivot range of around 230 degrees. This powerful slinger can shift up to 100 tonnes an hour in favourable conditions!
Some of the applications our slinger truck can be used for include:
Bio-Retention Pits and Basins
Underground Tank Backfill
Embankment and Batter Erosion Control
Gas, Water and Electricity Trench Backfilling
Curbside Stockpiling
Bio-Retention Pits and Basins
A bioretention system takes storm water from a surrounding area and filters it through a number of layers to remove all different grades of particulate matter, including hydrocarbons. The water can then be reused to hydrate the parks and reserves in the area. The filtration layers can include various sized aggregates and sands. In some larger systems, there is not an easy or efficient way to install the materials with an excavator, as the reach simply isn't long enough and the output is too slow. This is where a sand, rock and stone slinger is most suitable. With an excavator onsite reloading the MulchXpress portable rock slinger from a stockpile, you could expect up to 100 tonnes of material per hour to be installed!
Underground Tank Installation
Whether it's a new fuel storage tank at a service station or a storage tank for another type of liquid, there are certain steps that contractors must take to install these tanks safely in the ground. Various layers of material need to be installed to stabilise the tanks and make the area suitable for facilities to be built upon. Similar to bioretention pits above, MulchXpress' rock slinger in Melbourne can greatly decrease the time required to install these materials around the tanks.
Embankment and Batter Erosion Control
Some projects require large amounts of material to be placed into a Geo Cell Web, which can be seen in the photos below. This web helps to retain materials on a batter or embankment and at the same time allow vegetation to be established. With the web not allowing machinery to drive over it, the MulchXpress soil slinger is the perfect solution for installing materials from the top or the bottom of the mound.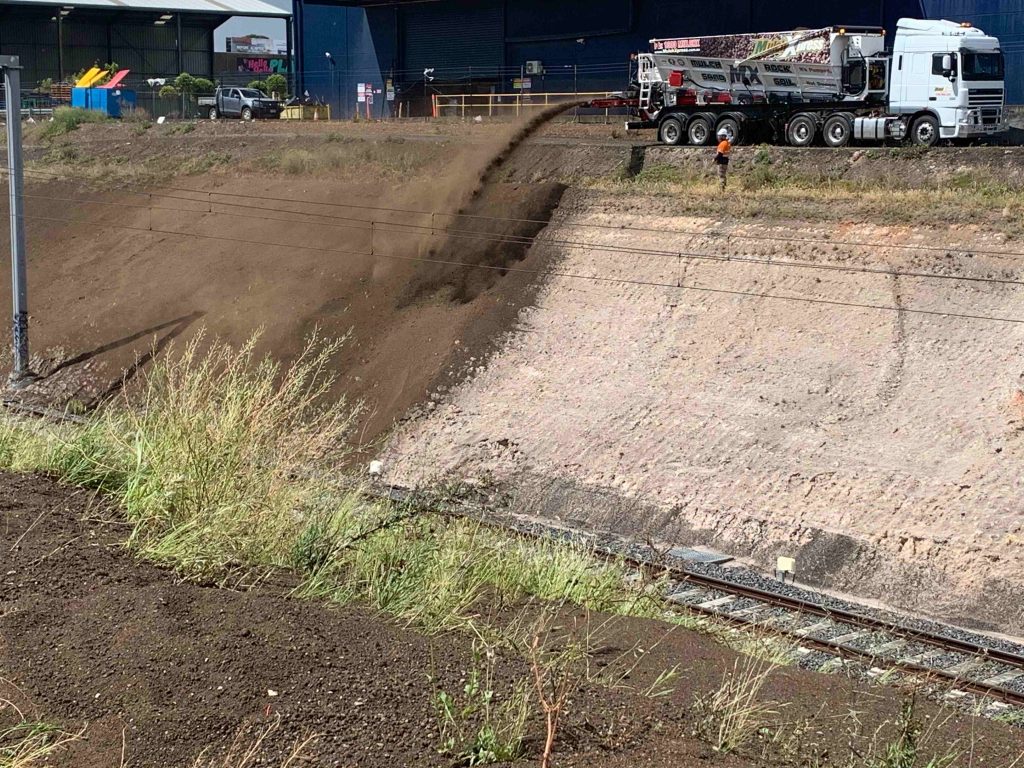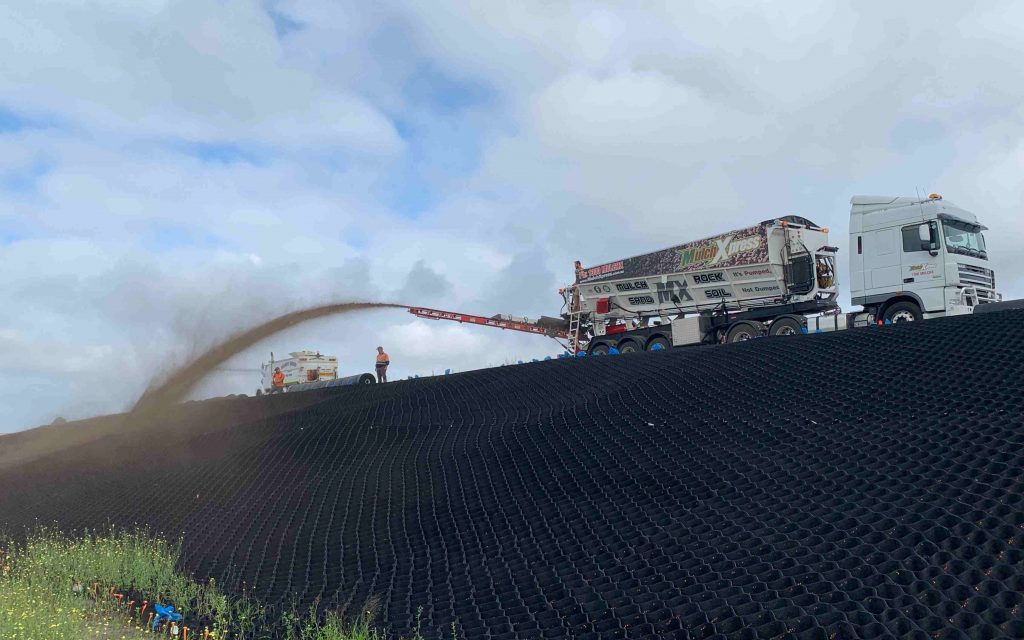 Gas, Water and Electricity Trench Backfilling
Quite often after laying new pipe or cable, backfilling needs to be done to close the trenches back up. Using the MulchXpress portable rock slinger with a deflection attachment, large volumes of material can be conveyed into a trench quickly and without any mess. The machine can be moved forward at a steady pace whilst installing the materials, ensuring the job is done in a timely manner.
Off the Road Stockpiling
If you need material left onsite but don't have the space for a tipper to be hoisted up or reversed onto the curb, then a rock and soil slinger could be what you're looking for. MulchXpress can throw the material over a guard rail, wire rope barrier, fence or even a wall so that you can have access to the material where you can't necessarily get a tipper to deliver it. In a lot of new apartment complexes, large planter boxes can surround the building, and using a rock and soil slinger truck to install the growing media can save so much time and labour.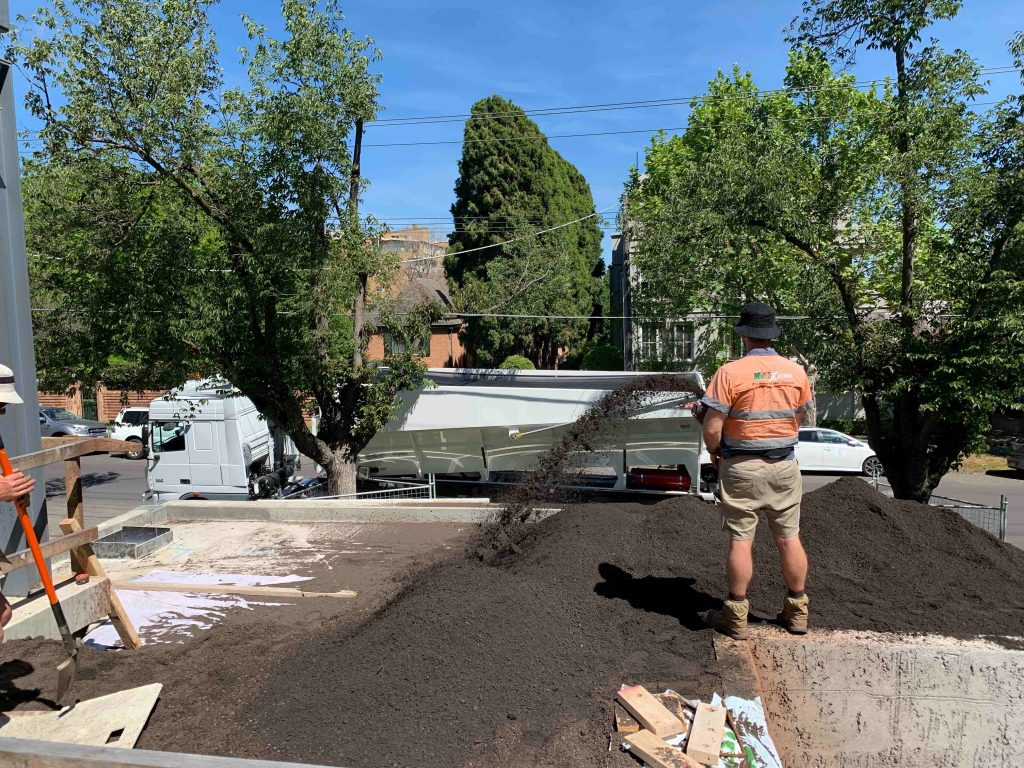 Hire a Rock and Soil Slinger in Melbourne Today
Next time you need a rock and soil slinger in Melbourne, don't look past the team at MulchXpress. Call us now on 1300 MULCHX to book in our slinger for your project.